Bridal Hair & Makeup
Hair & Makeup by Jessica Jean
Jess moved to Perth, Australia from Oregon, USA in 2013 and noticed a need for professional and reliable hairstylists, especially in the wedding industry.
With an impressive resume that includes qualifications in hairdressing, beauty, makeup and nail artistry, Jess is available to fulfil all of your hair and makeup needs. She has trained with some of the worlds leading hairdressers, is a former educator for Paul Mitchell Australia and has trained with MAC cosmetics, Aveda, Goldwell, to name a few.
Her infectious smile and free spirit will instantly set you at ease as she transforms your hair into a work of art. Her passion lies in making your dreams come true for your photo shoot, special event or wedding.
Jess continues to work internationally. She has combined her passion for travel with her love of all things wedding! She is based in Western Australia, Hawaii & the Pacific Northwest USA. Please contact her to find out her travel dates and pricing.
WEDDINGS & Special EVENTS
Jess is the perfect hairstylist for all of your wedding and special event needs. She is able to come to you on location on your special day (no travel charge within Perth Metro, Bunbury, Busselton, Margaret River and surrounding areas). All trials are held at the Ammon Creative Home Studio in North Perth. Jess has recently been married herself and fully understands the importance of looking and feeling your absolute best on such a special day. Get in contact today to secure your important date.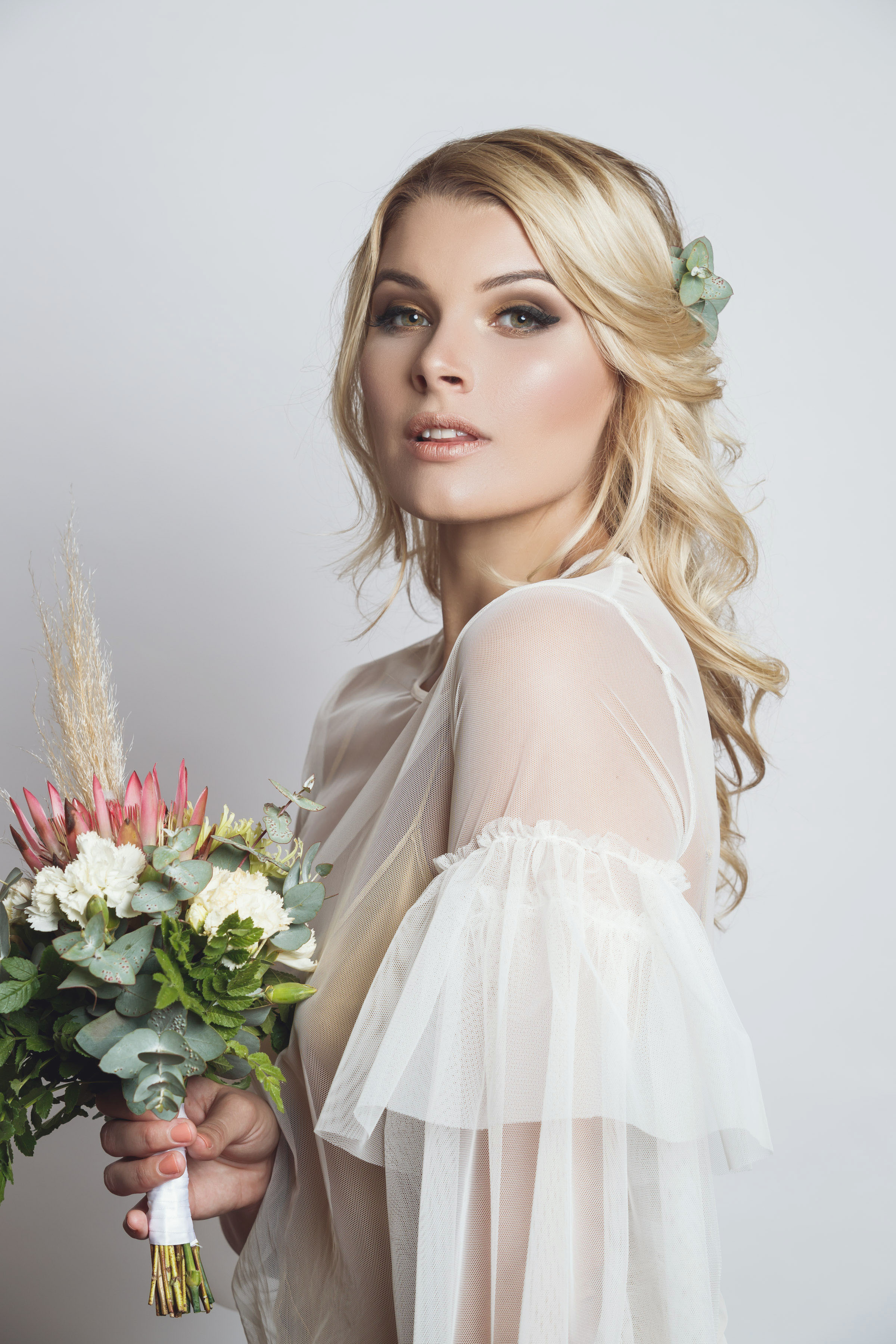 **BRIDAL PACKAGES AVAILABLE**
Bridal Hairstyling
Bridal Makeup
Bridal Trials
Clip-In Hair Extensions
Bridesmaid/Attendant Hairstyling
Bridesmaid/Attendant Makeup
Bridesmaid/Attendant Blowdry
Flower Girl Hair & Age appropriate make up
Ages 5 and under
Ages 6-10
*Over 10 same rates as Attendants apply
q&a
What happens at the Bridal Trial?
Bridal trials will typically take place at the Ammon Creative Home Studio in North Perth (different locations may be agreed upon for international weddings). We will spend fifteen to twenty minutes discussing your goals for the big event. This is an excellent time to reference photos, share your Pinterest board and discuss your theme for the wedding. We will go through your desired look and how you would like your bridal party or any special attendants to look. This is also the perfect time to discuss if 100% human hair clip-in extensions are right for you, to help you achieve your look. We will then go through your style and create a bespoke look that's perfect for you!
Can I have clip-in hair extensions?
I am able to order custom, colour matched, 7 piece, 100% human hair clip-in extensions for you. During the trial we can take time to colour match the extensions. A non-refundable 50% deposit is required at the time of ordering your extensions. I will also show you how to easily care for your extensions and how to put them in yourself so that you may reuse them, whenever you like.
Are lashes included?
Lashes are included for Bridal Makeup, Bridesmaid/Attendant Makeup and most of our international wedding makeup packages. You will have the option of a glam or natural strip lash or for an even softer look, individual lashes.
How will the consultation and trial work for an international wedding?
For the consultation, we will arrange a Skype/Google Hangouts call that allows us to meet face to face. The consultation will allow us to discuss your goals for the big event. Often times the trial occurs closer to the wedding date, when we are both at the destination.
I have a large wedding party, how will you manage to get that many people ready?
Excellent question! For weddings that require BOTH hair and makeup for over 5 people, I have freelance associates that I work with at each location. They have been trained to work with my lovely clients, as I would. They are working under my careful watch and along side me. They help me prep hair and faces so that I can add the final touches to each person. I work with only trusted, trained and professional artists. You're in great hands.
How much do you charge?
Please contact me for a complete price list of my services.
This sounds awesome! How do I book you?
To secure your wedding date, I require a $100 non-refundable deposit (50% deposit for international weddings).
HELLO!
WE WOULD LOVE TO HEAR FROM YOU!
If you would like to have a chat about options we're happy to discuss this over the phone, or use this form to send a message directly to our email.
If making an enquiry please include details such as date, time, location and brief details of your needs so we can inform you to the best.
M: +61 401 226 971 // E: jess@ammoncreative.com
CONNECT WITH AMMON CREATIVE: